Popular hunting methods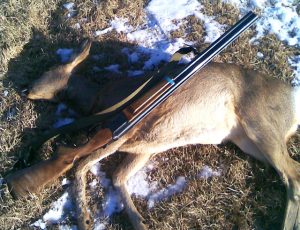 Watching roe deer
I want to immediately make a reservation, in my opinion, any stalking of the beast can be called amateur hunting rather than sports. A person who gives preference to this type of hunt should have the ability to perfectly mask themselves, as well as patience and endurance, since they will have to be almost motionless and observe silence. Any hunter will be able to get into the waiting beast, even if he does not have any special skills in tagging, since he will have to shoot from close range.
Such methods are used in hunting roe deer, and they should also be considered. Some hunters for various reasons can not take part in the hunt, which requires special physical training. I will note that these types of hunting differ from the practice of shooting these animals on solonets. They regularly visit saline soils, both in spring and in the first half of summer. Closer to the fall, they cease to get involved in a salty diet. And in the fall, they completely forget about him. Thanks to these features, hunting in these places is carried out at certain intervals, such as calving, rutting and territorial features. Until the fall, roe deer spend their time alone and therefore the hunter, who is masked by the solonets, has a choice.
Watching roe deer is completely different in winter or autumn. At this time, the animals gather in groups. And in a group it is much easier to see a suitable individual.
Watching out during the watering
It is better to watch the roe on a watering place in dry time and in those areas where the number of rivers and reservoirs is limited. It is best to do this from the labaza and use not only skradki, but also sit-ups. Before you start watching roe deer, you should be sure that they visit this body of water regularly. How to understand it? In the footsteps that remain on soft ground or sand. Not only the age of the animal, but also its gender can be determined from these tracks. In females of roe deer, the track is narrow and oblong, and in males it is round and stupid. It is necessary to know that the hooves of a roe are not as sharp as the front ones. Traces of young individuals, as a rule, are smaller than those of adult animals and an experienced hunter will definitely see this. The presence of large traces of hooves, and next to them small ones, suggests that mother comes with a cub to drink water. It is not worth waiting for. Often, along with roe deer, not only moose, but also other representatives of the animal world come to drink water. You must be prepared physically and mentally for such surprises.
Hunting during feeding
Roe deer feed on various forage in such areas as: mowing with aftermath, corn field, which was harvested, winter crops, forage grasses, harvested sunflower, edges of oak forests, young plantations and weeds with wormwood, stuck in frost. It depends on the chosen place, weather and season.
In those places where attendance of roe is high, the towers or labazah. Because it does not make sense to construct a structure, if there are not many roe deers. According to experienced hunters, one can understand by the tracks, where the animals come from for feeding, and in those moments when they lie and rest, you can build a simple sit-up from the material that fell under your hands. It does not take a lot of time and effort. Most importantly, it was invisible. In this case, a huge role is played by the direction of the wind. It is important that the wind was not from the side of the hunter in the direction of the place for feeding. Ideally, the wind will be directed from the stopping of the animals towards the hunter. Valid if the wind is side. During the alleged hunt we recommend to have a rifle with you, as the roe deer will not go for a shotgun. Often, animals graze at a distance of one or two hundred steps from a disguised shooter, and he patiently waits for hours with a smooth-bore gun and in inclement weather and all this is empty: the roe deer do not approach the hunter. Completely different is the shooting of these animals in special places for feeding, from the tower.
Hunting from the tower
Many hunters, creating specialized literature, insist that hunting from the tower is an example of cultural hunting. One can argue with that. This action can be called the cultural killing of roe deer, and it does not look like a hunt with inexorable passion, the ability to foresee and outwit the beast. Much depends on the hunter and what will be hunting, cultural or not. The hunt from the towers is ideal for aged hunters who have health problems or physical fitness. From the tower you can kill the first roe deer, and it can be a female, moreover, during demolitions.
Hunting surge
I have come across the term "hunting by a pen" many times, but essentially a frightened beast is being driven to hiding shooters. In this context, the word "corral" means: to chase the animal for a long period of time.