RUSSIAN TROPHY "SEVEN"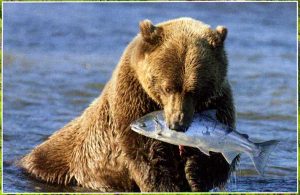 Trophy hunting appeared in our country relatively recently. More precisely, in the Soviet Union there was none at all, and the best elks 'horns were used to decorate the hunting organizations' offices, hangers and knob handles, at best. And only after wealthy people appeared in the new Russia, who do not always know how to occupy their leisure time, trophy hunting became one of the entertainments. The wealthy Russian hunters began to go abroad and learn from the European and African experience.
The overwhelming majority of the "new Russian hunters" were interested in exotic trophy hunting in Africa, and first of all, of course, the famous "African Five". As it is known, it includes a lion, an elephant, a rhinoceros, a leopard and a buffalo. Quite quickly, over the course of several years, such hunters shot the "big five" entirely, and then all the other trophy animals in Africa, and switched to Europe. Why fast? Therefore, our satirist Mikhail Zadornov remarkably said the following: "The American hunter needs to spend his life to get the African Five, and our vacation is enough." And I even saw a Russian young businessman in a television hunting program who got five "big" African fives. And it was a long time ago. Probably, today he has at least a dozen African kits in his account. As they say, there would be money and you will be let down to any dangerous giant for a sure shot. That's just the beast will almost certainly be semi-domestic. So, of course, it's possible to boast such hunting exploits, but I wouldn't have put myself above other hunters, for example, hares or znatakov of the Russian spring hunt. Moreover, one guest hunter will not be allowed into the bush and, in fact, he is not a hunter who hunts down prey, but only a shooter following the instructions of the hunter-guide. I am in no way opposed (if possible) to African and European hunting, and I myself enjoyed shooting in southern and northern Africa, as well as in Europe. I am against the too high status of "African" and European trophy hunters.
In Europe and other countries, the captured animals are much smaller, and coped with them even faster. There are only red deer, fallow deer, wild boar, European roe deer and moufflon and everything seems to be there. After that, they began to chase medal and record copies. Some time ago, the world went into fashion for the prey, for example, of all the "cats". But cougars with manuls also ended. And it turns out that now you will not surprise anyone with trophies from Africa, Europe and other continents. That is why the trophy mountain hunt for goats and sheep has received the greatest popularity today. There are quite a lot of them, and there are a lot of them, and it is harder to get mountain trophies, unlike in example, even with special transport and all sorts of tricks to facilitate this hunt. Mountains have mountains. At least you need to get on them. I am pleased to watch Edward Bendersky films about mountain hunting. This is where you really understand that hunting is work and high professionalism. Under the influence of such films, I even decided to accept an invitation from an old friend, a stand-up to hunt in the mountains of Kazakhstan for packs (capricorns). Although I saw "mountain hunters" weighing one and a half centners, claiming that they had got their trophies at a height of four thousand meters, I have a doubt that such a hunter will even rise to the third floor without an elevator.
What happens with trophy hunting in Russia? Following the example of countries cultivating trophy hunting and earning money on them that are so necessary for the development of the industry, our Russian Association of Public Organizations of Hunters and Fishermen (Rosokhotrybolov- Union, PALM), mainly trying to attract foreign tourists, also singled out the trophy "Russian seven". It includes bear, elk, wolf, lynx, maral, Siberian roe deer and capercaillie. At first glance, the selection is rather strange, but it does not give the hunter the opportunity, at any cost, to properly shoot off the entire set for a vacation or even for a year. We must travel and wait for different seasons. In addition, they are the most beautiful representatives of the Russian plain fauna.
Now we will consider each trophy separately according to the methods of its extraction: among them there are correct, that is, classical, and maybe extraction – "just to get". Still, there is a difference between the capercaillie, taken on the spring current, and the fact that it was shot from a rifle on aspen (and even from the car window). Therefore, in terms of production of the "Seven", hunting methods are clearly spelled out. Although I can not imagine how to check it.
The first place in this digital line, in my opinion, is bearishly undeserved. Yes, he is the most dangerous and spectacular trophy. But to get a bear in our time (with the availability of well-known means and free time) in the autumn and spring seasons is not so difficult. Firstly, the number of brown bears has grown enormously in recent years. Recently, at one of the press conferences, I heard complaints from the head of RALO from Karelia that bears had multiplied .